IF YOU COLLECT RECORDS, WATCH THIS!
AN EASY WAY TO CHOOSE THE NEXT TUNE
Remove records from the frame quickly and easily when you want to play them!

NO NAILS, DAMAGE FREE, 2 MINUTE SET UP
We use 3M Command Strips mounted on metal clips to secure the frame on the wall. YES! They are extremely strong yet won't damage your wall!

MODULAR DESIGN DISPLAY 8 RECORDS OR 80
One frame displays 8 records. They join together to display as many as you want (or have space for!)

12" Vinyl Record Display Frame - LP Wall Storage
$76.50
FREE US & UK SHIPPING ON 2+ PIECES!
Vinyl offers a unique listening experience, with unparalleled analogue sound but that's not all. Each vinyl comes with a protective sleeve with often meticulously designed album art to complement the sound. We can't really appreciate the artwork when the record is stored in a traditional record crate so we designed a product which enables you to display your vinyl collection on your wall. Record Roots is a patent pending, expandable frame for your vinyl.

Each frame is 72cm / 28.5" by 135cm / 53"
One frame displays 8 records.
US orders will be sent from Denver, CO 
UK orders will be sent from Bristol, UK - We ship worldwide!
Customer Reviews
03/03/2021
Daniel B.

United States
Look's Great
Lined a hallway with 80 albums
03/01/2021
Preston M.

United States
Amazing Wall Art. 4 Panels
Found this product through Instagram. Wanted it for a while but was unsure of the product and thought the price was too high. But once I got one I had to get more. Amazing product and easy to change the albums out. Changed the dynamic of the entire room and have received compliments from everyone who has seen the wall. Worth every penny. Excited to add maybe one more panel to the wall.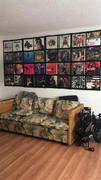 VIDEO TESTIMONIALS
"This thing is awesome! You don't have to drill any holes. It's really easy to mount and it looks fantastic!"
- Hector G, USA
"What's really nice is that you can mix and match it depending what you want to listen to, what you want to see up on your wall."
- Sean Bevington, USA
"My friends and I really love Record Roots and I think you will too!"
- Natalie Brown, USA
"What better way to display it than these incredible album holders?... I love how easy it was to set it up... Kudos to Record Roots for a great product!"
- Barry Paul, USA
FAQ
Each piece displays 8 records - 2 horizontal by 4 vertical.

Yes! They're the world leading damage-free wall fixing. Each strip is rated to hold 4.4lb / 2kg so between the four which will hold each frame up, they're plenty strong enough!

The 3M Command Strips were designed for mounting onto the wall without causing damage. It can be carefully removed without taking off any paintwork. It's not recommended on walls with wallpaper although in many instances it won't even damage these walls.

In many instances, it will be fine however we can't recommend using the 3M Command Strips as in some instances it could cause damage. You can mount it using screws through the eyelets positioned along the top edge of the product.

For textured surfaces like brickwork which the 3M Command Strips won't stick to, we recommend mounting with screws through the o-rings on the top edge.

Velcro loop strips are positioned on each vertical edge, which connects to a joining strip of loop tape.

No, the frame must be displayed vertically.

We have stock in the USA & UK. All US orders will be shipped from the USA. All orders from other countries will be shipped from the UK.

Yes! Our frames will accommodate gatefold records although we recommend that a maximum of 2 records per frame are in at any one time.

Yes! Each frame comes with everything you need to install them: 3M Command strips, metal clips and instructions.

It is made from a beautiful oxford weave fabric with cotton straps.